This work is committed to defining and building connections across campus and the region to create opportunities for students to enter the STEM workforce, with a focus on those historically underrepresented in the STEM fields. Efforts are designed to:
Create clarity, connectivity, and flexibility through the design, development and  implementation of systems, programs and alliances.

Understand current student population characteristics and how they inform organizational practice.

Explore trends in persistence and retention, as well as future workforce needs and strategically responses to changes
Initiatives 
AvenueE - Engineering and Computer Science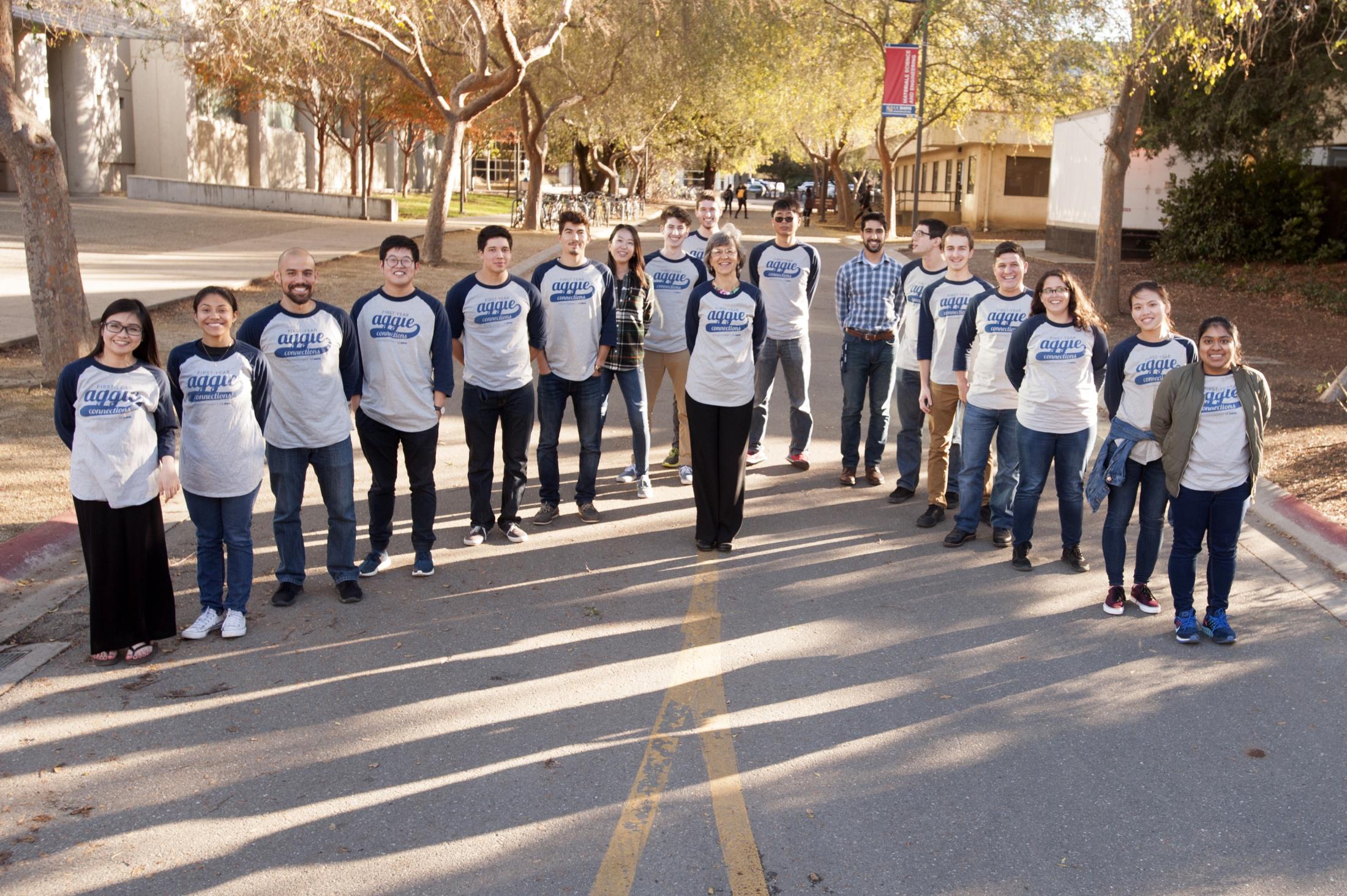 AvenueE is designed to help community college transfer students smoothly transition to UC Davis, and ultimately, a career in engineering or computer science. The program was developed by UC Davis and founding corporate partner, Chevron, in collaboration with Los Rios, Peralta, San Joaquin Delta, and Contra Costa Community College districts.  It starts at the community college and promotes the participation of women, underrepresented minorities, and those from families in which neither parent holds a bachelor's degree.  The program provides industry tours, summer internships, mentorship, and research opportunities that strengthen connection between coursework and application of engineering design principles.  The program is designed to develop passion for learning and research that will make the students innovators, problem solvers, entrepreneurs, and leaders.
Learn More: http://avenuee.ucdavis.edu/ 
---
AvenueA - Agriculture
In proposal stage, AvenueA supports a long-term goal of assuring food security and the social sustainability of our farming communities by transforming today's farm laborers into the skilled, STEM-based agricultural workforce of tomorrow. An integral part of this vision is to promote the inclusion of underrepresented and impoverished agricultural communities into the STEM disciplines.  This project incorporates the SmartFarm Big Idea, with the Avenue model, and a workforce development piece designed to reskill or up skill the workers who stand to be displaced through the introduction of technology and the eradication of stoop labor.
---
AvenueV - Veterinary Medicine

In collaboration with Davis High School Career Technical Education (CTE) programs in Agriculture and Animal Science and the UC Davis School of Veterinary Medicine Junior STARs program, high school students are able to participate in an 8 week research opportunity. Students are eligible to apply for these positions after completing a suite of courses designed  between UCD staff and faculty and Davis High School CTE faculty. 
Learn more: https://www.vetmed.ucdavis.edu/research/student-research/star 
---
AvenueM - Military Service Member Utility Workforce Collaboration
Building on our collaboration with the Office of Naval Research Neptune Project and in collaboration with the Energy Efficiency Center, the AvenueM program seeks to identify Veterans transitioning from active duty to higher education to pursue STEM research specifically in the areas of energy efficiency, energy conservation, and renewable energy at UC Davis.  AvenueM leverages existing programs and fills gaps remaining in the Veteran student experience which will result in increased education, professional development, and will support research efforts for the military through the public sector.
---
AvenueH - Health Careers
An undergraduate student pipeline program, AvenueH is currently in development and being organized around the strategic priorities of the Health System.
---
VIP - Vertically Integrated Projects

The VIP program integrates undergraduate education and faculty research in a team-based environment.  It facilitates students to apply principles and skills learned in courses to complex research problems in a creative environment over a long time, from their sophomore through senior years.  The vertical integration occurs through the interaction and collaboration of sophomore to Ph.D. students as well as postdoctoral associates, research staff, and principal investigators.  Students are engaged in inter- and multidisciplinary projects in an immersive, collaborative, and flexible learning environment.  The undergraduate students experience the full innovation process in the context of a real project by the time of their graduation.  They also have an opportunity to be a coauthor in presentations and publications that validates their contribution to the project's success.  Vertical integration also develops time management, communication, mentoring, and leadership skills.
Learn More: http://vip.ucdavis.edu/
---
STEM Focused High School
The STEM Strategies Group is driving the conversation and convening stakeholders including UC Davis, Yolo County Office of Education, and Davis Joint Unified School District board member with the intent of creating a viable plan for the buildout of a non-seat based STEM focused High School, on UC Davis' campus.
---
Million Women Mentors California

Million Women Mentors California is the statewide partner to the international Million Women Mentors movement. The Million Women Mentors movement supports the engagement of one million STEM mentors (male and female) to increase the interest and confidence of girls and women to persist and succeed in STEM programs and careers. UC Davis co-leads this with the California Commission on the Status of Women and Girls. Our original goal was to create 50,000 mentor pairings by December 2018, but we have since doubled that.  We currently have 90,000+ completed pairings (20 hours of mentoring in an academic year).  In addition to the mentoring, we've expanded to hosting Town Halls in counties throughout the state, connecting parents, girls, and school personnel with local STEM resources, STEM professionals and opportunities for hands-on engagement in STEM.
Learn More: https://www.millionwomenmentors.com/ca
---